Screen capture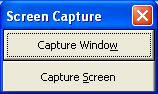 Capture the active window or the entire screen and insert the captured image into the current slide. After you choose "Capture Window" or "Capture Screen" this message box will appear:

after you press "OK" you have 3 seconds to select the window or screen to capture.
The captured screen will be inserted into the current slide.